RE: AI Interesting Moves and Points of Improvement on Revised
@redrum said in AI Interesting Moves and Points of Improvement on Revised:
@Alexei-Svitkine I glanced over the game as a whole and actually the thing that jumps out most is that the Austrians played very poorly (I'd say more so than Germany or Ottos). They often weren't spending their PUs, lost control of Istria area, didn't help Germany much with Russia or Italy, etc. Really their only good play is taking out Petrograd (which was actually kind of lucky and poor play by the Russians). This then causes Germany to have to spend a lot of PUs to help defend Austria and deal with Russia which left it very little for the western front where it just gets overwhelmed by France/UK. It also takes the CPs way too long to take out Russia and by the time they do, Allies have just too much of a sheer numerical advantage.

Yeah, the AI right now prioritizes using too many cheap units for attacks (inf) and should balance this more with high attack units (art). This is a difficult problem to solve across all maps and all unit sets which is why the AI tends to overly prefer using cheap units.
I agree that Austria played poorly that game. Austria and Italy typically have a stale mate, holding a neighbouring territory each and exchanging control of another each turn. Austria wasn't quick enough at the start of the game to move that border into Italy and so the game of tag was in Austria's borders, which was awful for it.
Having said that, I think until Russia gets defeated, Germany has a lot of trouble figuring out what to do with its big forces. Often, they hang around in Warsaw or elsewhere in the middle of its territory (I'm talking 40-100 guys) - not contributing to either front.
I have another save game with the same scenario where Central powers do better, but again similar blunders by the AI are observed.
Nov17_GreatWar_Try2.tsvg
In this new save game, here are some issues:
Round 17:
At this point, Russia's fall is imminent.
Germany moves units from East Prussia to Lodz (towards Russia), even though they're not needed there. It should be moving towards the western front, since Russia will be eliminated by Austria by the time these units can actually threaten Russia.
Germany also moves lots of units to Kiev, again which are not needed there.
Please note that at this point, Western front desperately needs help and Germany is losing Hanover each turn and has to retake it, so moving their big force away from there is a bad move.
They leave Konigsberg undefended - which lets a transport land a unit there and capture it that round. Sure, they can kill on the counterattack, but it's better to just leave one or two units there to prevent this.
Round 18:
Germany decides to move back from Lodz to Silesia - basically undoing the move it did last time - it could have been ahead instead.
Germany also sends its large force from Kiev to Crimea, which is not useful there. I believe it's trying to amass a secondary force next to Russia to threaten it, but given that Austria really does not need help there and the fact that Germany is having troubles elsewhere, it really shouldn't be doing this.
Italy tries to take back its capital. It's desperate. It attacks with a percent chance to win of 38%. However, it just forgets an artillery that could have participated that would have raised the chance to 53%.

Round 20:
Germany builds a factory in Serbia. This doesn't seem useful as its focus should still be on the western front and it doesn't need a factory there.
Later it will use this factory to send some units to help in Italy, but really it's just not needed. Germany already has two factories neighbouring Serbia - in Greece and Bulgaria.
Round 21:
British take East Prussia and Konigsberg from Germany who again fails to leave a token force behind - just leaving them completely empty and then having to retake them back next turn.
I have to check my notes, I might have other things I've observed in this playthrough, but these are from the most recent session.
EDIT:
Here are some more from earlier turns:
Round 5:
Germany has 8 subs in Sea Zone 10 near US navy. They decide to move (non combat) to Sea Zone 6. However, in the process (if they did as a combat move), they could have taken the Sea Zone 7 convoy center from the French.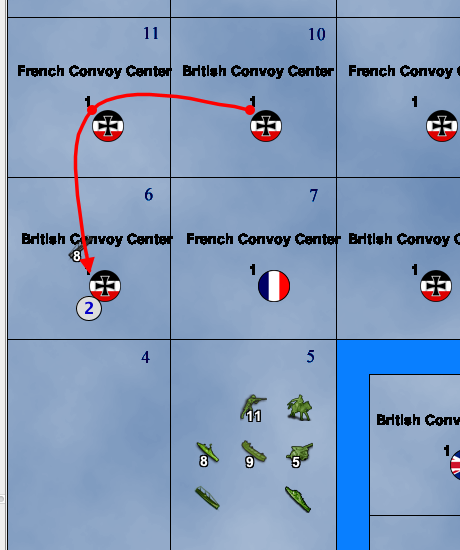 Round 7:
Germany has a good force near Bar-le-Duc and could easily defend it. It's a factory on the western front - so a very good thing to keep. (Sure they can retake next turn, but that means they can't build units there.)
Instead, they abandon it.
Before:


After: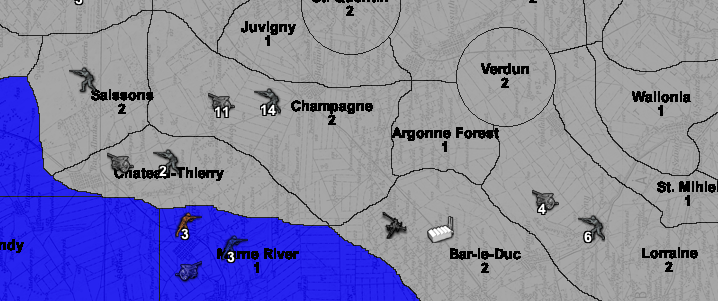 posted in Feature Requests & Ideas