RE: Fallen Empire
Progress report #1
I've been making good progress on the map graphics in the past few days. It is rather time-consuming, even though I'm trying to keep the artstyle simple and clean. I'm not (yet!) too good at it, but it already is waaay beyond what I used to think I was ever going to be capable of.
Here are two screenshots showcasing parts of the Winter Kingdom, and four of their units: Axe Raiders, Berserkers, Boar Riders and Giants. The Winter King rules this barbarian-tribal-styled faction from his seat in Heimard. They start out in a region well protected by a barrier of impassable mountains, but the lack of resources will force them to invade new lands to the east and possibly south.

The area of Tronjrond with hills and and pine forests. Pine trees are purely cosmetic, there is only one "woods" territory effect.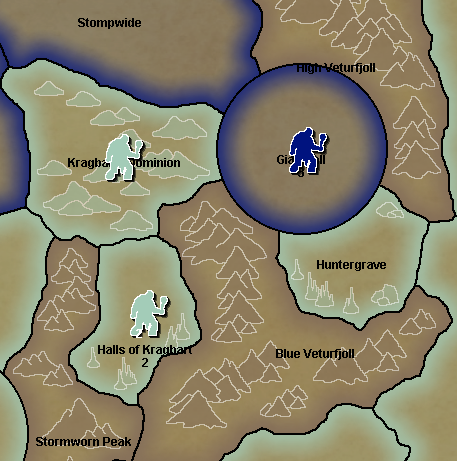 The region around Gianthall, with the (neutral) giant-populated lands ruled by Kragbart.
Evreything is subject to change. Any reference you might discover is definitely either purely accidental or just an imagination of your mind.
posted in Maps & Mods