Warcraft: War Heroes - Official Thread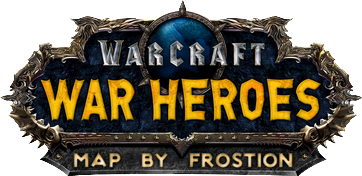 EDIT: This map has evolved much since the original post. It now even has a new name and logo. To get up to date with the state of the map development, go to the later posts of this thread. Have a good one! - Frostion
Here follows the original post:
=================================

I am happy and proud to finally introduce the new map I am working on. It is set in the Warcraft universe, with lots of fighting, fantastic races, magic and plenty of pretty weird stuff. I hope you have played one or more of the Warcraft games as this will probably help you understand this map and the universe.
This map is called World of War Heroes as I plan to implement important hero-units alongside the standard fighting units. The plan is also to add role-playing elements, a lot of randomness and an adventure like game experience. Hopefully this map will become fun and different in such a way that it can be played an infinite number of times



"In universe" we are a few years after Warcraft III and 1 year before the start of World of Warcraft. So if you have played WoW, note that this map is set in a time before your personal adventures. This also means that Gnomeregan is still a functioning capital of the Gnomes. The world includes only two continents and a big tree-island:
Eastern Kingdoms
• Lordaeron
• Khaz Modan
• Azeroth
Kalimdor
• Northern Kalimdor
• Central Kalimdor
• Southern Kalimdor
Teldrassil (the tree island to the north-west)
(The map I have made is 9500x8500 pixels and has a little over 400 capturable land territories)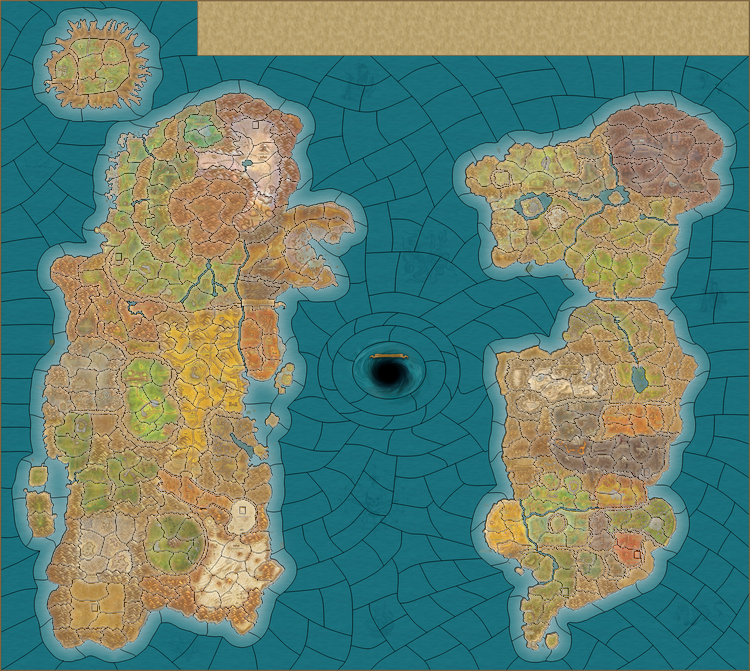 (This picture is of the Human starting capital territory. The size is 50% of the ingame size, and I have removed the semi-transparency that surrounds all land borders. If the humans own the territories, a light blue glow is displayed along the borders.
Note that there will be bridges displayed in the final map version, so that players can see where they may cross the rivers. Also, some of the very narrow terrain will be colored dark/black as it is impassible)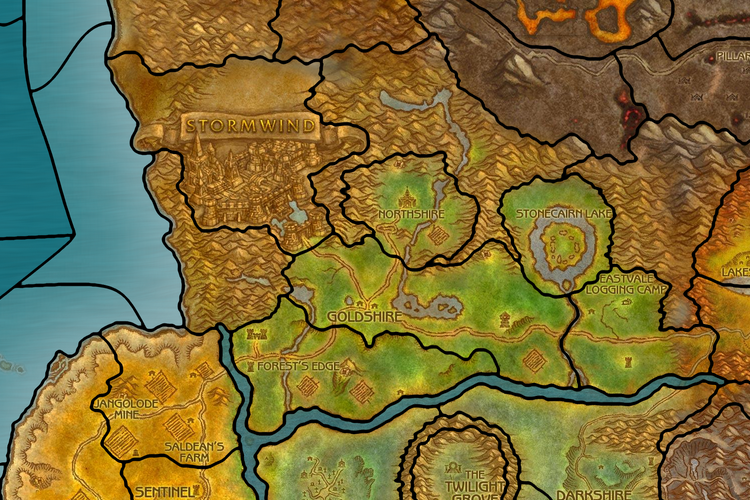 (I have tried to make this overview image to show how the map geography is at the moment.)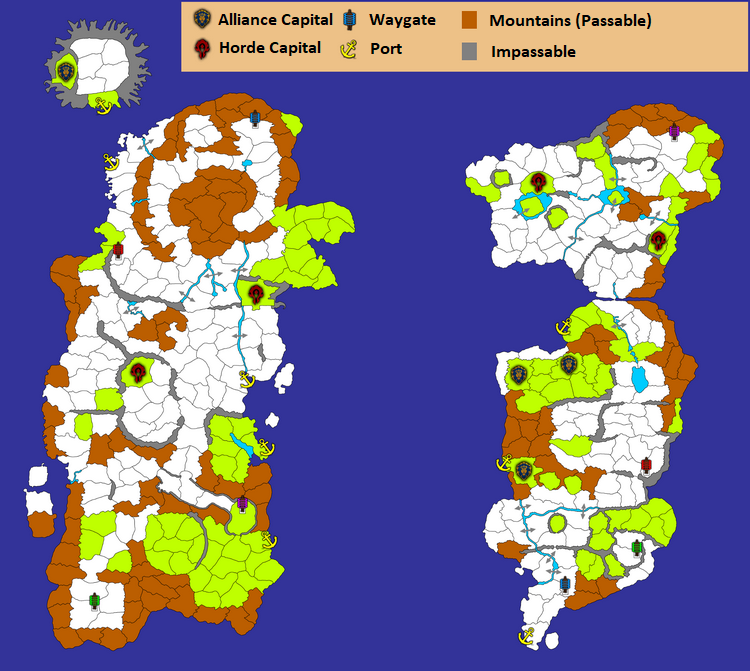 (What is the green terrain? Well, I plan to have different territory effects, but as many other aspects of the map, I have not thought everything fully through yet. So just ignore the green. It is still a work in progress
)


• 8 playable races with fixed capitals (4 Alliance and 4 Horde)
• Shared basic units
• Racial special units
• Hero-units with unique abilities and a leveling system
• Hero backpack and items (approximately 80 items total for the 8 heroes)
• Tech system / unit upgrade system for shared and special units
• Basic/veteran/elite unit system
• Siege warfare with buildings and siege engines
• d20 combat system with support and AA features
The World
• 408 capturable territories
• Territory effects
• 6 resources types (Territory: PUs, Gold, Wood and Food. Other: Mana and XP)
• Impassible mountain ridges, rivers and bridges.
• 4 sets of "Waygates" (Teleporting portals)
• 8 "Ports" with attached special units: Transport (ship only capable of hero transportation for gold), Fishing-Boat (capable of capturing different types of sea resources) and Trading-Ship (capable of generating resources when arriving at another port)
Randomness
Territories are to have resources that allow the building of basic units. But the map is also to have randomly placed resources, items, creeps (AI enemies and a few allies) at game start. There are 400 territories that are all to be randomly seeded with hero items (like swords, armor, books etc.), resource producing units (like mines, farms, woods etc.) and a large variety of special buildings etc. The idea is to make every map playthrough feel like a unique adventure.


Map tile graphics and black/white border map
Working file structure and XML
All the stuff I gotta do before adding player units
Add Humans and Orcs
Balance shared units
Add Dwarves, Gnomes, Night Elves, Tauren, Trolls and Undead
Balance fixed map resources
Add randomly placed AI Allies, Enemies, Extra resources, Capturable units and buildings
Add special units
Balance special units
Add tech development
Add veteran system
Add Heroes
Add Hero level system
Add Hero inventory and information on map
Add Hero items
Map custom sounds and music


(1. October 2018) I don't have a working XML yet, no units stats and I have not thought every aspect of this map through yet. So there is a long way to go from here. I hope most stuff will fall into place on the way. I will probably rely greatly on tips, help and suggestions from you guys here at the forum.
I will probably start releasing playable betas at some point before Hero units are introduced onto the map, so that we can ensure a good balanced basic game behind the Heroes. Percentage-wise, I would say that the Heroes should be 25% of the game, meaning if a player masters and manages the regular units, army and navy in a reasonable way, he can still win, even though he is unlucky in regards to the Hero unit and his/hers item inventory.
My next step is getting a working file structure and XML up and running.


I have finished like 90% of the unit graphics, but need to add roundels, shadows and maybe unit type icons. Here is a taste of how the human units look like:


Irregulars


Footmen

Pikemen


Archers


Crossbows

Cavalry

Knight


Priest


Troopship

Heavy-Troopship


Escort


Warship

Human Hero - Paladin - Arthur the Faithful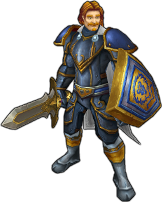 posted in Maps & Mods