RE: Iron War - Official Thread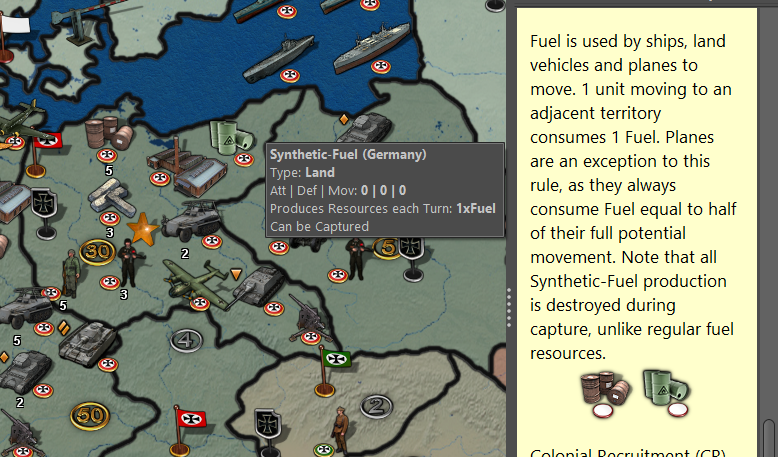 @Black_Elk @redrum
I agree that there is a problem in regards to the lack of fuel that starts some rounds into the game. Fuel thirst has always been the intention, but it is nevertheless potentially fun spoiling for the gameplay. After some consideration, I like the solution redrum gave as it gives options/further motivates the players to make some choices/follow strategies if they don't want to run out of fuel: Avoid fuel units, focus on capturing fuel, conserve fuel … or now … purchase fuel.
I have implemented a "Synthetic-Fuel" (unit). It is essentially a buildable version of the fuel producing barrel. It must be built and placed at a factory. Everyone can purchase it, but only Germany has a unit of this type on the map from round 1 (just for the looks and to make players aware of its existence).
It costs 5 PUs (half price of an Infantry) and produces 1 Fuel per round, just like normal fuel production. Unlike the normal capturable fuel barrels, Synthetic-Fuel production is destroyed during capture, just like factories. So I guess players would want to build them at the safest territories.
I see this solution to the fuel problem as not ruining, but just easing a bit, on the original idea about players always having to be thirsty for fuel. Even though players should probably buy/plan their fuel policy many rounds in advance, players can now choose to pay their way out of the fuel needs.
I hope to upload this to GitHub soon, but what do you think about it at first glance?
@John-Cena said in Iron War - Official Thread:
... it would be a cool idea if you could unlock increasingly better technology with multiple tiers (e.g. better aircraft, ships, nukes etc) so that having a technological advantage would have more effect on the gameplay. It could also be interesting if you added more esoteric special units for different countries, e.g. occult weapons, UFOs for Germany, sea monsters for Japan
As much as I like the idea about increasing technologies and advancements, I can't see this being implemented into Iron War this late into the game-development. There would just be too many things to consider, balance, adjust and so on. I would rather implement this into another map of mine that is still in early development. This is the sort of features that needs to be thought into a map from start, as I see it. I also like the idea about uberweapons, wonderweapons etc. But one of the concepts of Iron War is standardized unit types, so it would be kind of strange to start implementing nation specific special units. Sorry to disappoint

posted in Maps & Mods