Dragon War - Official Thread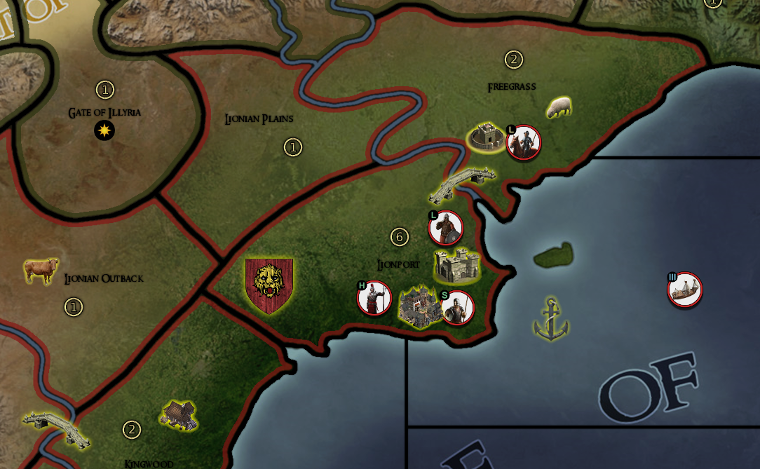 ---
This thread is for discussions concerning the Dragon War map.
---
Map setting and Story
The dangerous dragons of war have been extinct since the first age. The forces of evil have been dormant for centuries. The free peoples, Elves, Dwarves and the humans of Lionia, have been living in peace and security for generations. Or so they thought. In the places where evil dwells, a lust for blood, land and power has grown. Also, rumors of warmongering among the primitive races and sightings of young dragons create concern. It is now clear that the wicked king of Crowton, the blood lusting chief of the Greenskins and the unholy lord of the Undead have formed an evil alliance. They want to divide, subdue and enslave the entire world. Only a combined resistance by the good and free peoples can fight off this evil. But, this time the good will not let the forces of darkness have monopoly on the mighty war beasts ... the dragons.
Units:
Nations have different Air and Sea unit types.
Nations have the same Land unit types.
There are several unit categories:
Infantry (can all receive support)
Cavalry (all give 1 infantry unit att. support)
Artillery (all give 3 infantry units att. and/or def. support)
Air (most can carry characters around the map)
Characters (give all above units att. or def. support)
Forts/Castles (give all above units def. support)
Towers/Rams (only work against Forts/Castles and the attacker can only make use of 1 of each)
Sea (can transport land units and do battle at sea)
For a more detailed map and unit description, see the map notes.
Features:
This is a 6 player map with two alliances.
Set in a fantasy world with elves, dwarves, greenskins and undead.
Build up and expand your nation with villages, towns and cities.
Enjoy unique racial advantages and the abilities of special characters.
Collect wood, metal and food to build up your military.
Use ships to fish in offshore sea zones.
Tackle pestering murlocs, kobolds, gnolls, ogres, pirates and more.
Battle on map terrain like mountain, desert, swamp, forest and snow.
Use forts, castles, siege weapons and the mighty dragons of war.
Change Log:
v1.2.3 to v1.2.4:
• Player order changed so Evil now has 3 turns followed by 3 Good turns.
• Many units have had their TUV changed in the XML, so now the AI should act less defensively.
• Air units lowered in move and power.
• Sea units lowered in move.
• Dragons lowered in move and power.
• General now supports 5 allied units attack and defense, not 10.
• Wizard and Priestess now properly support 10 allied units. They do no longer suppress 10 enemies as this was never intended.
• Some other minor changes.
v1.2.4 to v1.2.5:
• Ability to move units from Northern Baldoria over the river to Southern Baldoria removed.
• The capturable Young-Water-Dragon now spawns in round 1 in one of 6 possible random locations, alongside 1 Pirate Ship and 1 Pirate Boat.
• AI harassing players (Murlocs, Ogres, Kobolds etc.) now start out with less units.
• AI harassing players now have 2 turns per round, but their units are raised x4 in price so that they may now actually only buy half the units compared to before this update. This is to compensate for the much smarter and active AI and allow them to be defeated more easily.
• Young dragons are now valued higher by the AI harassing players than before, so they should now try to protect them a bit more.
• Added 9 sawmills to the map to support more building of ships and artillery.
• Doubled the number of unique music files, but also shortened them all from 2 minutes to 1 minute as players can now play an entire alliance, have 3 turns in a row and therefore have 3 music files be played in sequence. It should be avoided to have the music overlap.
• Other minor edits to the map and map notes.
v1.2.5 to v1.2.6:
• Young dragons and captured dragons are now valued a bit lower by the AI harassing players than before.
• Dragons have lowered stats. Less attack and defense power and less HP.
• Other minor edits to the map.
posted in Maps & Mods