RE: Proposal: Always-shown "Purchased Units" panel
Maximized, must admit the purchase panel looks pretty good:


On smaller size, we may want to consider what should yield space, currently the scroller and panel yield space last: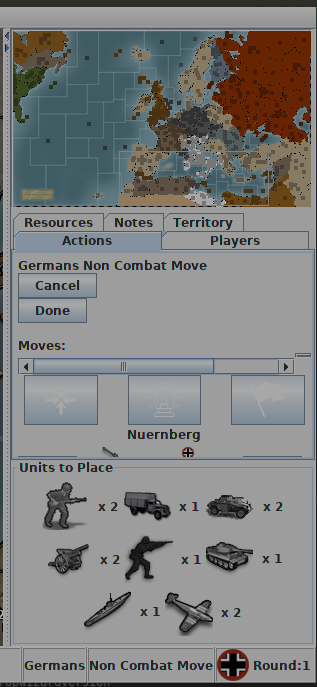 The only other odd thing, is during the actual placement phase:


If the analogy is that you have your units lined up in the purchase panel, and you are placing those units, then one would expect for them to be subtracted when units are placed. IE: you're moving units from the 'units to place' area onto the board.
So, some suggestions:
add scrollbars to do scrolling if there are more than 3 rows of purchase, we should consider if that should be 2 rows. (some work should be done to make the unit scroller less tall, and perhaps we'll have the space we want)
units probably should be subtraced from the units to place panel as they are placed. If we do that, it's redundant to the 'units to place' displayed above in 'units left to place'. Perhaps we can remove the 'units left to place' and have units simply get subtracted from teh 'units to place' panel. This will keep with the analogy that those are units held to the side in a purchased pile and that they are being placed onto the board.
posted in Feature Requests & Ideas