RE: Tournament of Champions (Season 5) for AA 50 Anniversary '41 version
@Deltium Thanks for your commentaries and commitment,
11 months ago in last tournament ToC4 I submitted a proposal to have 2 chances in that contest, you got it and liked it setting a double elimination tournament with a loser's bracket (perhaps limited by challonge.com system); it wasn't excactly as proposed and then surged a question: Who has interest to be in a loser's bracket? Following that first recommendation, just recently made another proposal that covered all your requirements and adding some other: 2 games, second chance, bid games, standard bid games, gaming both powers A&A, etc. with a better balance games but having only winners brackets, not that losers bracket that is really disappointing with gamers feeling bad in moral and in a failure position. About time set of 45 days instead of 30 days, from my point of view I think and feels it will create laziness, being boring and quite slow tournament (same scheme as last ToC4).
About "2nd Chance" to a loser in a loser's bracket, it's not interesting at all! Proposing losers should go out and just remain winners in winner's brackets (but everybody having those two chances). Maintaining that same old scheme I forwardly advice that if losing maybe I'll not feel going into a losers second chance bracket as was in last tournament (without having any chance to come back up into the winners bracket). Sorry, but there should be winner's brackets only!
Furthermore, I invited several gamers from lobby and majorities told me they don't participate in this tournament cause it's PBEM / PBF base; anyhow, I also well understand situations as gamers living in other geographical areas; so, maybe we could organize a tournament live online only to these potential participants under the proposal I'd made as a Single Elimination–Double Bracket at the new Ladder & Tournament TA site created by @prastle
Thanks again and ready to begin, GLHF to all, Raville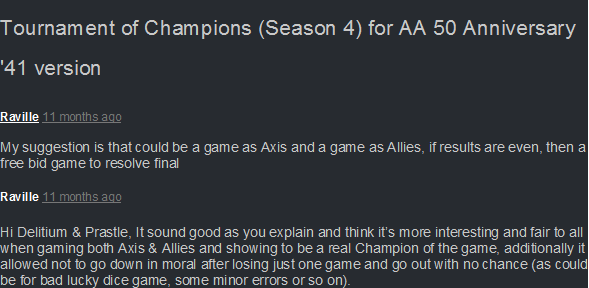 posted in V341 - 42 (AA 50 Anniversary)