World at War Variants - Official Thread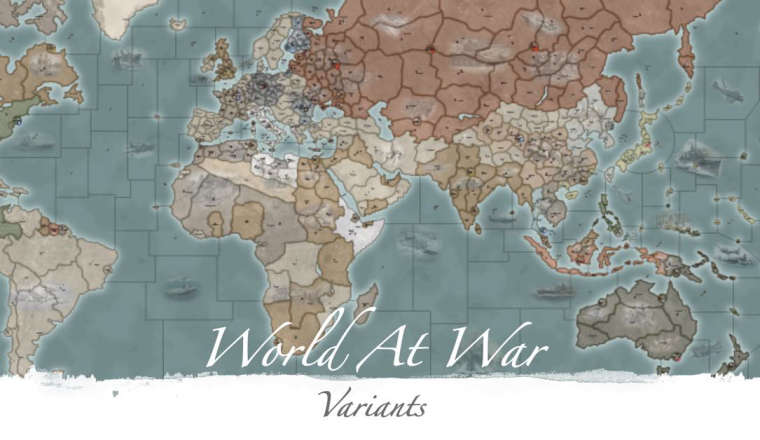 Welcome to the Official Thread of World at War Variants
The mission of this thread is to bring together WaW Variant players who share the following objectives:
Having fun with TripleA

Promoting further interest and development of this WaW Variants mod

Engaging in civilized discussion and record-keeping in the name of friendly competition

Providing a hub to find other like-minded WaW Variants players
A post to our community!
@SneakingCoward (mod creator, thread admin)
@VicVictory (thread admin)
---
GENERAL NOTES
v3 Variants of World At War (original map created by Sieg)
Mod created by @sneakingcoward / Suggestions welcome to wgbt@gmx.at
Game is continuously played by PBEM.
Gamers state, that it is one of the best games listed at the depot.
---
a.) MAP CONTENT
Waw Variants includes 3 mods of World at War
World at War Variant - v3 ... (with Japan as 2 parties Yamamoto and Hisaichi)

World at War Variant - FUEL-AA-Range ... (with Japanese as 1 combined party)

World at War Variant - vXXX ... (with Japanese as 1 combined party)
---
b.) RULE SET
All v3 Variant mods use a combined v2 + v3 rule set.
Version rule set in general
Subs can sneak attack. That means they can pass an enemy occupied sea zone and attack the next (an enemy destroyer prevents/blocks a sneak attack).
Specific Version 2 rule set
Submarines can submerge after first attacker/defender roll dice. Thus an attacking fighter still has the chance of hitting a sub before it is able to submerge. Enemy destroyers stop subs from submerging.
Specific Version 3 rule set
Sea transports do not defend. Neither can they be selected as casualties. They are just lost if enemy wins the sea zone. For example a bomber can defeat an infinite amount of unguarded transports.

Submarines can submerge before any roll. So an attacking fighter has no chance of hitting a submarine, unless a destroyer prevents it from submerging.

Bombers during strategic bombing do not destroy enemy PUs, but do damage structures. Enemy will have to spend PU to repair structures.
Please find detailed information regarding rules & specific unit capabilites in the relevant notes tab inside the game.
---
c.) ROUGH INFORMATION
World at War Variant - v3 ... mod includes units/features, as follows:
Paratroopers
Air+Sea+Land transports, also landing boats, generally proper transport concept
Construction units
Ability to destroy structures with strategic bombing raid (SBR)
Destroy structures at a retreat
Fighter escorting+intercepting and air battle before regular battle
Battle rounds limitation
Multiple hit-point units
Compact turn order, which combines axis & allies parties and is therefore ideal for PBEM
---
World at War Variant - FUEL-AA-Range ... mod includes units/features in addition to v3 mod, as follows:
Change unit owners from Britain/USA towards Russia/China and Russia towards China
Fighter scrambling with radar
Fighter can also do SBR to train, radar, construction and not intercepted planes.
Fuel consumption for production and movement, incl. refineries
AntiAir (AA) separated to combat (hit 1 of 6) and strategic bombing raid (hit 1 of 12) AntiAir
Airbase enables full range for planes
Trains
---
World at War Variant - vXXX ... mod includes units/features in addition to v3 mod & Fuel-AA-Range mod, as follows:
Recruits as a resource and precondition to build units
Slightly modified setup
SBR on ships
SBR on several land units
---
d.) HINTS & TIPS
Due to a wide range of possibilities this mod is more suitable for experienced players (typical rounds 30).
Specially the supply strategy is crucial in this mod regarding air+sea+land transport units.
The combination of all possible features enables almost a real handling of warfare.
The fuel mod opens a totally new strategy setup. Big unit groups require a huge fuel amount. Therefore use your fuel wisely.
posted in Maps & Mods